Start packing your bags and get your passports ready!
PokerStars announced a new tournament on the calendar, the 2020 PokerStars Players No-Limit Hold'em Championship (PSPC). Specifically, 2020's PSPC will take place in Barcelona during the European Poker Tour (EPT) festival from Aug. 20-24, 2020.
PokerStars unveiled the exciting news at this year's EPT Barcelona.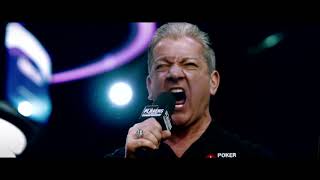 The massive PSPC prize pool
Before you think that the PSPC is just any old poker tournament, at the inaugural 2018 PSPC event in the Bahamas, Spain's Ramon Colillas won $5.1 million.
What's more? Amazingly, Colillas qualified to the PSPC in an online qualifier.
To date, the PSPC is the largest $25,000 buy-in high roller event.
Platinum Pass giveaway
Most importantly, PokerStars will give away free Platinum Passes for entry into the tournament. Each Platinum Pass includes free entry to the €22,500 buy-in (approx. $25,000) tournament as well as a six-night hotel stay, flights, transfer, and certain other expenses for the winner and a guest.
"The inaugural PSPC was an amazing success, and featured hundreds of Platinum Pass winners who dared to dream of playing in an exclusive high-roller event," said Severin Rasset, PokerStars' Managing Director & Commercial Officer, Poker. "The PSPC demonstrates our commitment to cultivating and growing the game, not only by creating opportunities for poker fans of all levels to win life-changing sums of money but also by showcasing poker and the entertainment it provides."
Qualifying for Platinum Pass in PA
So far, there is little information on the details surrounding the giveaways at the moment.
However, online poker is ready to launch shortly in the Keystone State. In particular, PokerStars readies to launch after inking a deal with Mount Airy Casino. Unfortunately, despite a rumor that PokerStars would launch last week, this was not the case. However, it remains the poker site most likely to launch first.
Although we don't have the details yet, PokerStars previously ran Platinum Pass promotions in New Jersey. It is safe to assume similar promotions will run in PA after launch.
Platinum Pass tournaments should run throughout 2019 and up until the PSPC. Previously, there were four main ways to earn the coveted pass.
Online series – Main Event winners of major online series typically garner Platinum Passes as part of the prize pools. Playing in major online series may also earn entry to special freerolls that award passes.
Sunday major tournaments – Players who money in large weekly tournaments typically win entry to freerolls with Platinum Passes as prizes
Other special offers and challenges – Players who take part in special offers or challenges may earn Platinum Passes. Keep your eyes peeled for those Platinum Pass icons!
PokerStars rewards – Historically, Platinum Passes are available through the Stars Rewards program
It is exciting to think that anyone can win the PSPC trophy. With the impending launch of PA online poker, it could be that a Pennsylvania poker player could be crowned 2020 PSPC champion.